You can use a variety of clothing items as a layer between the jacket and the shirt, but not all of them will look harmonious. Let's see what can enrich your set from an aesthetic and practical point of view. What is ambiguous, controversial appearance, and what may be just disastrous.
The obvious solution is to add a vest, which looks great with a jacket, as well as separately. It can be woven or knitted, without buttons or with them; it may be a part of three-piece suit or an independent element.
Woven jacket with buttons can be single-breasted or double-breasted, with lapel or without it. It's a great option for smart casual or business style. Color and pattern can match the suit (which looks more stringent), and can be contrasty:


Vest under the jacket
The wool knit jacket will not only protect against the cold, but also nicely complement the single-jacket. Please note that if this is not the three-piece suit, it is better to pick a kit with the observed contrast between the jacket and the inner layer.


Vest under the jacket 2
In the following examples, we will see that this rule works well, and a sweater, a jacket or a cardigan will work just fine in all the interesting sets, creating a visual comfort. Moreover, the contrast can be achieved not only by the color or pattern, but also by mixing textures of fabric.
It's up to you if to select knitted vest with buttons or without, as both options are equal and remarkable in their own way.


Varieties of knitted vests
Speaking about the vests as an additional layer, down vests are worth mentioning. Of course, they should be thin enough to fit easily under the jacket. Here is an example from the Japanese company Uniqlo:


Down vest with a suit
As you can see, it is quite acceptable even with a business suit, but we must understand that it is still a solution to keep warm on the way from home to work – it is better to take it off in the office.
In general, it is convenient if the additional layer can be quickly removed, and clothing with buttons has the advantage. Therefore, the next thing we will talk about is the cardigan. If we talk about personal preferences, my favorite set consists of a jacket, a shirt and a woolen cardigan – warm, comfortable, time-tested traditional combination.
Once again, I mention the contrast. Look at the photo: cardigan color always differs from the color of the jacket:


Cardigan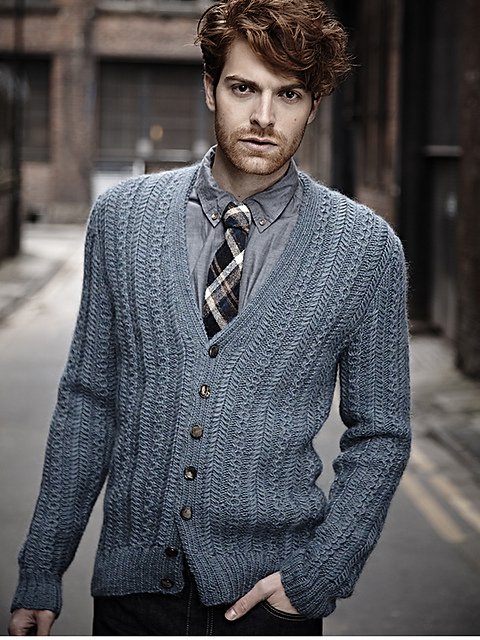 It is desirable to unbutton the lower button of the cardigan, the top button is optional.
What else can be worn under a jacket? Thin or medium thickness sweater with a round, V-neck or high neck. This option has the disadvantage that you will have to take it off over your head, but it is still a great choice: you can create a stylish while still comfortable set.
V-neck is great in that tie looks great with it. You can still wear a tie with a round one, but its biggest part will remain hidden – in fact, only a node will be revealed to the view, what slightly devalues those virtues for which we love this male accessory. However, the presence of the tie will not be superfluous, if you are striving to create a neat look.
Sweater under the blazer

Speaking of multi-layer, it is not superfluous to mention the correct sequence of all the components. A set with a rising thickness of each layer is the most harmonious: an intermediate layer in the form of a sweater or cardigan to be thinner than the top – a thick solid sweater, for example, under a thin jacket of worsted wool will look awkward and strange.
Well, it is obvious that you should pick the right size. A shirt, a sweater, and a jacket should fit your figure, without creating a baggy effect.
Another kind of sweater that would be appropriate to wear with a jacket is a sweater with a high neck. It can be a thin turtleneck. It can be worn without a shirt, although recently there has been an interesting trend – to wear a shirt with sticking collar out of the sweater.
Traditional version: Sweater with turtleneck under the jacket:


Extravagant version: Collar is under the turtleneck:


Sweatshirt with corduroy suit

Now a few words on the controversial cases. A jacket with a hoodie. I am not an opponent of mixing styles, but in this case, two items differ stylistically, so their neighborhood is questionable:


Jacket and sweater with shawl collar. The massive wide collar does not create even a hint of a harmonious convergence with neat lapels. You should choose between a jacket and a sweater.
Shawl collar

Jacket and sweater with zipper and a high collar. Buttons and zippers are difficult to combine, and in this case the difference is also quite big, so it will not work.
If you absolutely insist on the high collar with zip, choose a model with buttons. It is not perfect, but still much better.